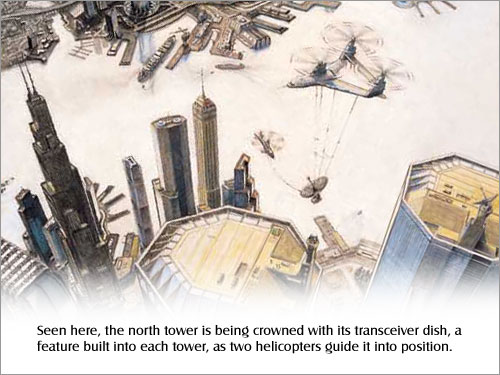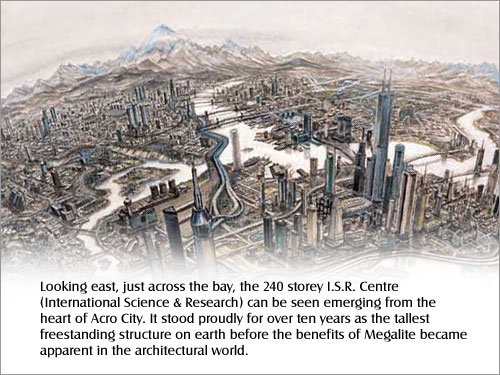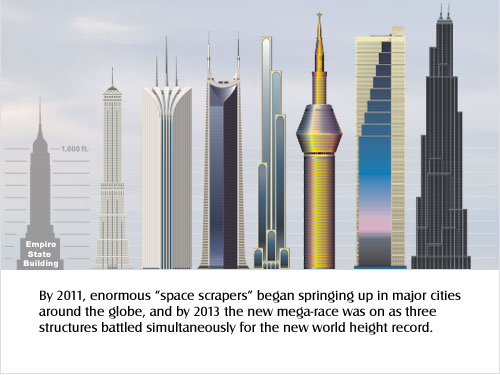 Santa Rosanna is a purely fictitious city, existing in the year 2022 on the Western seaboard along Oregon's southern coast.
At 320 storeys high (4,022 feet), the view from atop the nearly completed Stebbing Quadraplex offers a spectacular view of the entire metropolitan area.
Taking an incredibly short 4 years for the first of 4 towers to be completed, the versatility of a newly invented silica-steel super alloy (dubbed "Megalite") made construction a breeze.
Extremely light, incredibly strong, and selectively flexible, "Megalite" became the overnight corporate success story of the decade, and perhaps even the new century. Its benefits were instantly recognized by scores of major global industries, from aviation to automotive engineering.
Seen here, the north tower is being crowned with its transceiver dish, a feature built into each tower, as two helicopters guide it into position. Looking east, just across the bay, the 240 storey I.S.R. Centre (International Science & Research) can be seen emerging from the heart of Acro City.
It stood proudly for over ten years as the tallest freestanding structure on earth before the benefits of Megalite became apparent in the architectural world.
Far below, the new 30-lane wide stretch of I-5 carves a monster path through the West
Side district, across the recently completed "High 5" telescopic bridge, and on through
Acro City where it splits up and fans out in all directions.
By 2011, enormous "space scrapers" began springing up in major cities around the globe, and by 2013 the new mega-race was on as three structures battled simultaneously for the new world height record.
In Munich, Germany, 75 kilometres from his home town of Mühidorf, 2006 inventor of Megalite and Nobel Prize winner Professor Eric Von Stebbing erected the first record breaking office tower which topped out at 255 storeys (3,150 feet / 960.36 meters), shocking the critics who only a few years earlier predicted the I.S.R. Centre's 3,000 foot height would not be surpassed in their lifetime.

However, within six months the huge Megalite constructed Khaimãn Tower in Riyadh broke the 3,300 foot mark with its tall combination observation / communications spire.

At the same time, just south across the harbour from Acro City, Mitsubishi's new North American headquarters Northridge Tower was breaking the 3,200-foot level. It held the record only during the last 42 days of construction before the progress of the Khaimãn Tower surpassed it.

In 2017, Von Stebbing, irritated by the short-lived record of his first creation in Munich, set out with brazened determination to assert his pre-eminence in the field by constructing a multi-purpose, multi-tower megalith of unprecedented height that would decisively set a long-standing record as the "Empire State Building of the 21st century".